Events
Industry Awards 2019
10-24-2019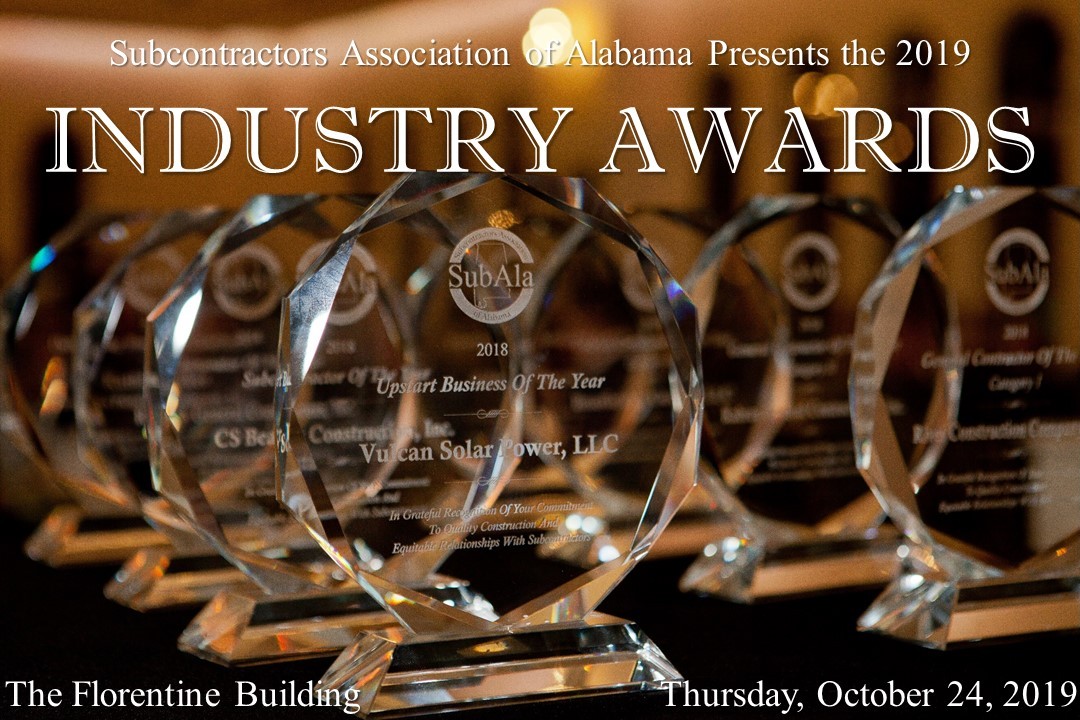 SubAla's Industry Awards Banquet honors members of the state's construction community for their contribution towards excellence in our industry. This industry-wide event includes all facets of the construction sector, including architects, engineers, general contractors, subcontractors, suppliers and vendors, who are interested in recognizing excellence in construction. Additionally, special recognition will be given to a State Legislator for their support of our industry. The event will be held on Thursday evening, October 24th, at The Florentine Building in downtown Birmingham. The occasion will start with a cocktail hour and then move into dinner and the award presentation.
Date
Thursday, October 24, 2019
Location
The Florentine Building
2101 2nd Avenue North, Birmingham, AL 35203
5:30-6:30 Cocktail Hour
6:30-7:15 Dinner
7:00-8:30 Awards Presentation
Registration Form and Sponsorship Information
If you have any questions please contact Jennifer Davis (205) 981-0086 or Jennifer@subala.org
WorkersFirst & SubAla Board Meeting
11-13-2019
The annual SubAla and WorkersFirst Board Meeting will take place at our office from 9:00AM-1:00PM. Breakfast and lunch will be provided.

4314 Eagle Point Parkway, Birmingham, AL 35242
If you have any questions, please call our office 205-981-0086 and speak with Jan Simmons.